What is the Pink Shirt Day Squad and how does it work?
The Pink Shirt Day Squad reinforces three values: Engage, Encourage, Empower!
The Pink Shirt Day Squad initiative enables high school students/tauira like you to encourage and empower one another to celebrate diversity, stop discrimination and end bullying. 
As a member of the Pink Shirt Day Squad, your school will take part in a fun, week-long challenge that ends on Pink Shirt Day. We'll give you five daily activity prompts which will inspire you to celebrate diversity, take action against bullying and raise money to support the Pink Shirt Day kaupapa.
When you join the squad, you'll create a web page using our simple online platform. Throughout the week you can share updates and photos of your activities and celebrations. When you complete activities and share them to your page you can earn online badges. We definitely encourage you to fundraise to support the Pink Shirt Day kaupapa. You can set your fundraising goal on your personal webpage and track you progress toward that!
Why do I have to be over 16?
By joining the Pink Shirt Day Squad you are creating a publicly visible web page to which you can upload photographs and blog posts and on which sponsors can leave comments when making donations. This is a big responsibility and one we take seriously. Your online safety is of the utmost importance to us. For these reasons you must be over 16 years of age to join the Pink Shirt Day Squad. For helpful advice about being safe online, check out the Netsafe website.
How do I find my School Squad?
If your school has already set up a School Squad, you can find it using the Search function, or click on "Search Squads" in the menu. School Squads can be found in the "Teams" section.
If you're the first person from your school to join the Pink Shirt Day Squad then you have the option to set up your School Squad during the registration process. You'll automatically become the Captain.
If you'd rather wait for someone else to set up your School Squad, you can skip that step and complete your registration. Then you can join your School Squad later after it has been set up by clicking on the "Join Us" button in their header.
Do I have to fundraise to take part?
Fundraising isn't required but is definitely encouraged where possible. If you do raise funds, your donations will help the Mental Health Foundation support diversity and inclusion workshops in schools across Aotearoa. They will also help the Pink Shirt Day Squad programme reach more schools next year.
You'll earn virtual badges for each activity you complete on your Pink Shirt Day web page:
Add your profile pic – Empower!
Add a blog post – Encourage!
Meet your fundraising target – Engage!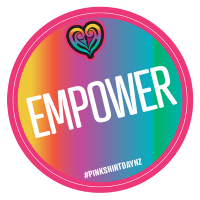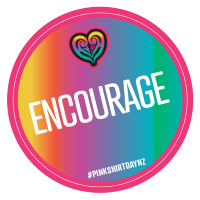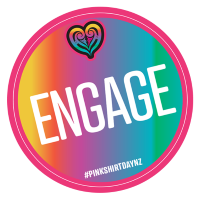 Can I share my Pink Shirt Day Squad page on social media?
Absolutely! The goal for this challenge is to create a hub where schools can celebrate their activities and share knowledge/get inspired by others. Sharing your web page on your social media platforms is a part of that too. We encourage members of the Pink Shirt Day Squad to share their efforts in an open and positive way, maintaining the mana/spirit of Pink Shirt Day all the way through. 
Once you've registered and set up your online page it's easy to make it your own by adding your own personal touch. You can add pictures, change the text, add a profile picture, and even change the donation prompts for your supporters. Here are the basic steps to personalise your online fundraising page on a desktop computer.
Log on. Click on the login icon at the top right of your screen. This will take you to a page to enter your login details. If you've forgotten your password, simply follow the prompts to reset it.

To add a profile picture of yourself click on the camera icon by the circle image in the header banner.

To change the existing text on your page click on "Event Page Settings" and scroll to the bottom of the page to the "Update Your Blog" section. Click on the black Edit button. Make your text edits and save.

To add additional content and photos of your fundraising journey, add a "Blog Post". You can add these as little or as often as you like to keep your supporters informed of your latest updates.

To change the donation prompt amounts on your page, click "Custom Donation Amounts". Click the switch beside the "Set your own donation amounts" prompt to turn it "on". Enter the donation amounts you'd like to display on your page and save.

To see how your page is looking now that you've edited it, click on the "View" link in the header banner.
How do I connect with the Squad challenge on social media?
We can't wait to see the Pink Shirt Day Squad challenge roll out across Aotearoa. Be sure to take plenty of photos and videos that you can share on your Pink Shirt Day Squad web page, and use the blogging function to tell us all about it! Use the hashtags #PSDSQUAD, #pinkshirtdaynz and tag us @pinkshirtdaynz!
Can I do the challenge a different week?
We understand that you may need to hold your Pink Shirt Day celebrations on another day, because of current safety practices at your kura/school or events like exams. If your school can't participate in the challenge in the week leading up to Pink Shirt Day on Friday 16th of October 2020, flick us a quick email at pinkshirtday@mentalhealth.org.nz. We'll help you find a new date.
Where can I get Pink Shirt Day resources?
We've picked the most useful Pink Shirt Day resources for School Squads and put them all together under our Resources Tab. These are free for you to download and print as many copies as you like. To view the full range of Pink Shirt Day resources available, and to order School Packs and Sticker Packs, please visit the official Pink Shirt Day website.
Is Pink Shirt Day still happening?
Yes. Pink Shirt Day will take place on Friday 16 October. However, if New Zealand goes back into COVID-19 alert level 3 or 4, Pink Shirt Day will be postponed. We urge everyone taking part to visit the Ministry of Health's guidelines for more information regarding events.
Due to COVID-19, we urge everyone participating in Pink Shirt Day to maintain healthy and safe practices when planning activities within your school. It's important that we support one another and build spaces that are safe hygienically and socially. 
Let this Pink Shirt Day stand as a reminder of the importance of accepting and respecting one another. 
Before you help plan any activities or events, please liaise with your school's senior staff to discuss how to run Pink Shirt Day safely. 
Tips for a safe, healthy event:
Ensure you use contact tracing forms for events with more than 10 people held at your school.
Have sanitiser/wipes on hand for participants.
Remind people that if they are feeling even slightly ill, they should seek out the school nurse or another staff member immediately. It's best for people who feel unwell to stay at home.
What happens after Pink Shirt Day?
After Pink Shirt Day we want to celebrate your awesomeness! Student leaders will be recognised with an official Pink Shirt Day Hero Certificate. You can use it on your CV in years to come to show the tremendous effort you put in to bring your school community together and pull off a top-notch Pink Shirt Day.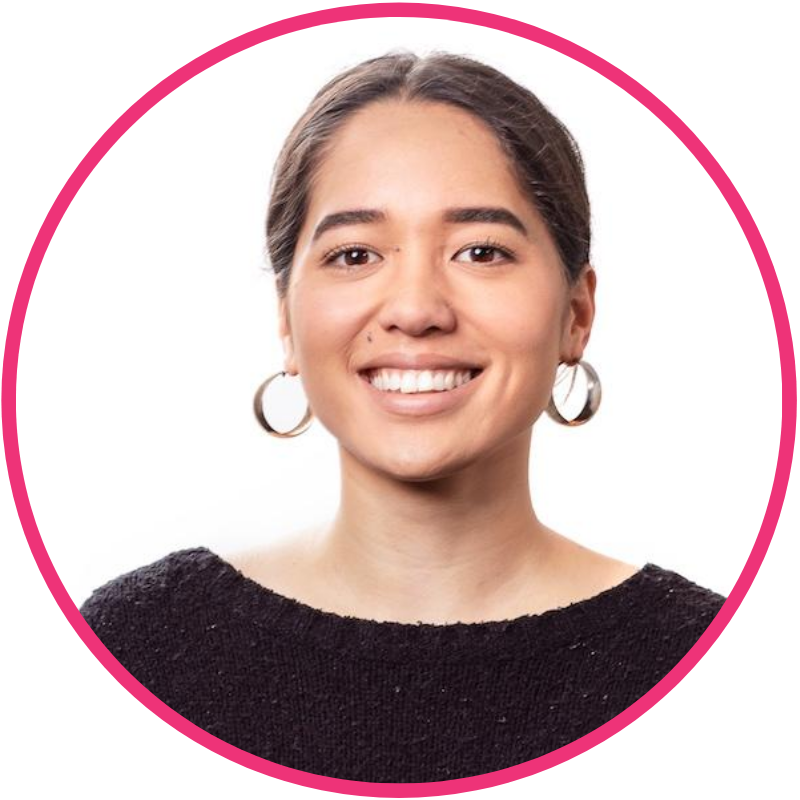 I'm here to help
"Kia ora, I'm Tia and I'm here to help you with your Pink Shirt Day Squad questions. You can get in touch with me using the contact form below. If you have any other questions about Pink Shirt Day, please email pinkshirtday@mentalhealth.org.nz."