Team Mental Health Foundation
Running is a great way to improve your mental health and well-being.
A run every second (or third) day,
Keeps the family doctor away.
And any exercise those doctors say
May be actually, very much ok
For the heart, the brain, the legs, it will pay
Great dividends to keep even dementia at bay.
So grab some shoes, speedos or your favourite bike
Or send through a donation of anything you like.
I'm doing the Christchurch Marathon for the Mental Health Foundation NZ. I'm doing this because more than 50% of New Zealanders will experience a mental health problem in their lifetime, and I don't want them to face it on their own.

Your donation will help the Mental Health Foundation to provide people with free information, resources and campaigns covering the A-Z of mental health and wellbeing topics. It will also help them advocate for helpful and hopeful policies and services for people living with mental illness.
I am aiming to raise $500 – please show your support and donate to my page!
Thank you to my Sponsors Rachel Allan Reuben Allan Jan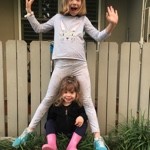 James Allan Rebecca Elkins Anonymous Lottie Allan Daisy Elkins