Look who's doing a fundraiser!
I'm fundraising for MHF and well-being.   I'm not much good at this fund raising nor writing.
I'm just a kiwigran in her 65th year. I've seen and lost people struggling with their mental health. Crashed and burned myself. I've found getting on my bike helps. 

So I've challenged myself to ride the 2020  Tour Aotearoa from Cape Reinga to Bluff. Not quite in under thirty days or less more like more about sixty days!  Yicks! 
Yes for me and my silly brain, this is a huge and rather terrifying challenge. But I'm hoping this very long ride could help support the work of the Mental Health. A challenge  that could not only support me but also raise some fund to put resources out to help others.       
Your donation will help the Mental Health Foundation of NZ to help people and communities to build the tools they need to maintain a positive well-being and function well in their everyday lives.
I want to raise at least $,1000 more if possible, so please donate today!
Every little bit counts!

Thank you in advance,
(Kiwigran - Glen Adams)
MAURI TU, MAURI ORA.
My Achievements Added profile pic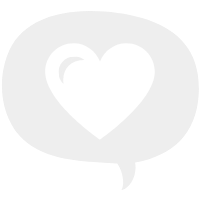 Shared page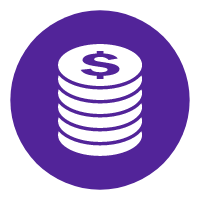 First five donations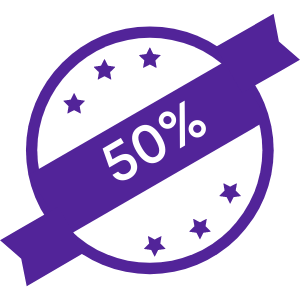 Half way to goal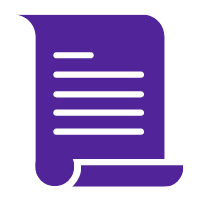 Added blog post
Reached goal
My Updates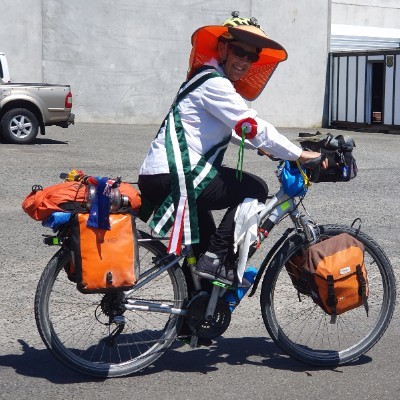 Lock-down! End of my ride - Till later!
Saturday 28th Mar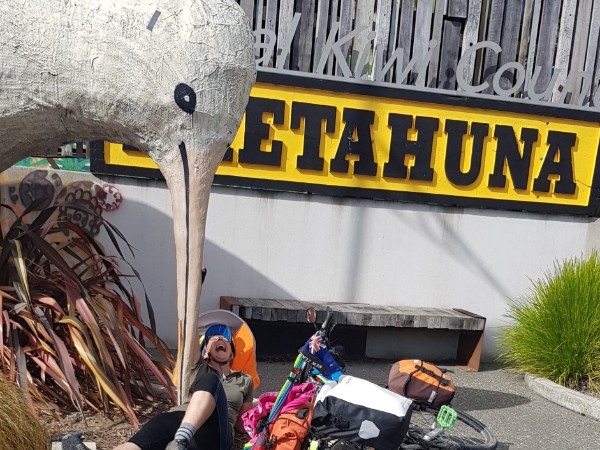 On Thursday I collected Isabel and had a smooth silent ride home. Straight wheels, smoothly changing gears, brakes that stopped me and no squeaks of clanks.
Friday I had a nice day at our Feilding market catching up with every one. That afternoon Isabel was repacked with winterised gear adding approx 2 and a half extra kilos. Most of that the sturdier tent.
Saturday I set of very early over to Beth and Art in PN. Then a bit of cheating a ride (plus coffee stop) up to the top of the Pahiatua Track. Looking at the "improvements" to help? cyclists. Anything but. Horrible rough texan seal had been added to the side of the road ... In some places, but not blind corners or anywhere helpful. I was glad NOT to be riding up the road. Though the traffic was lighter than last time I was on the road so maybe my chicken feathers could have been ignored.
A last good bye and I was off down the long hill to Pahiatua. ( I could get use to this.. ride up on 4 wheels, down on two wheels)
Normally we stay on the main road into Pahiatua but I followed the TA route onto a Tararua Rd a well graded gravel road. For the most part a nice surface until near the end where deep round river pepples had me walking. No big climbs just a lovely ride through back country farm land.
Then onto the seal and into Ballance. At the bridge I get a panic call from my eldest son .. Go home we are going to level 3 and then level 4 on Wednesday!
My heart sank! could I keep riding to Wellington.. Schools were closing and then I'd have to get home on public transport. I rang my big sister and we sorted a plan. will almost. Ride into Pahiatua and ring again.
Once in there I found a sheltered sport from the wind and had my lunch. Across the square an older couple stopped in to have theirs. They had been travelling to the south island and family had just called them home too.
After much thought and as it was a lovely day for cycling Beth and I decided I'd ride on to Eketahuna amd get my number 13 control shot  and stay one last night in my tent at the Eketahuna campground and then head back to be collected in Pahiuatua on Sunday.
So here ends Part one of my TA adventure from Cape Reianga to Bluff. Part two will come but later. How much later? Well thats a good question.
Everyone stay safe. Keep washing your hands.
A big, big thankyou for all of your donations you are all fantastic.
And a special thank you to Bob and (sorry) his wife for catching me on the road and giving me a generous donation now lodged with the other cash donations I have been carrying onto this site.
One last follower up. Yes I have been feeling rather down with having to stop. But this morning I braved the rain and had a good ride around town. I'm in a much more positive frame of mind.
Thank you all.
Kia kaha!
Share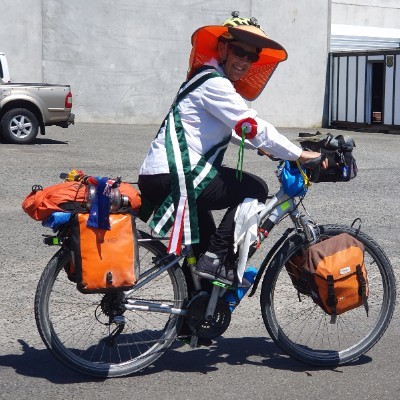 Dusting of my Old Bike
Saturday 28th Mar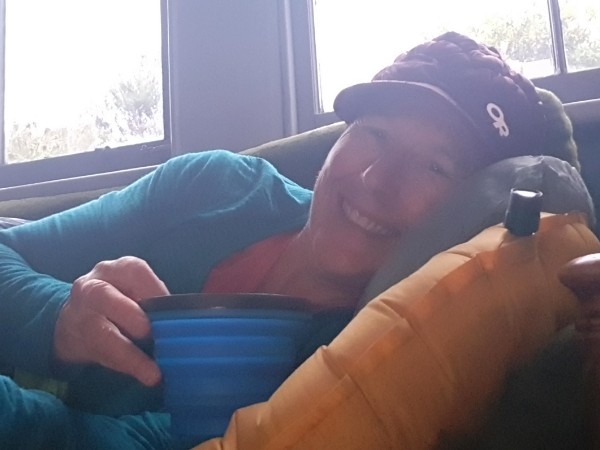 I got home late on Sunday night after a fantastic ride into the evening. I was almost at Hunterville when my SOS crew arrived. Beth and I walked the last rise of the last hill into Hunterville with all my lights blinking away. Beth said as they had come over the rise they had seen my front light blinking through the pine trees down the road.
Of she went in the farm truck leaving me to ride a (whee) down hill ride into Hunterville. Then it was packing everyting into the truck and off to home for the next few days (almost a week)
I'm glad I'd called as the tick tick had become a clank clank in the hub of the pedals.
Monday was washing and sorting my winter tent and warmer clothes for part two of my venture south and the coming cooler weather.
Isabel was duelly taken to the work shop at 'MY Ride' in Pamerston North to be checked over and repaired, FOr me it was home and a quick check of my old road touring bike ( a giant transend)  to carry me up the Pohangina Valley to Totora Resevre and home again to take my 12th Photo control shot. Yes I wasn't riding from Hunterville but I considered I have ridden it before and my Giant is not a comfortable bike on gravel!!!
Tuesday was a cool to cold day and my 3/4 merino leggings were being appriecated from the time I locked up the house. Nothing came off all day. A lovely ride over to the Pohangina Valley vis Vally road. And wow I'm fitter ... up the hill at the end like a flat road! Yiha!
At the intersection at Raumai I met Mary a wonderful TA angel telling me of her find raising stall in Pohangina village and that the ols school house was available to stay in.
Yes! I cycled to the school house and left all my camping gear etc there and road the rest of the way on a lovely light bike. Back in Pohangina I decided to stay the night in the school house and for $15  had a comfortable night and lamb and rosemary stew!
I met Mary again the next morning as I rode into Palmerston North. Tonight was Morris practise night and we had our hosting of the Autumn Equinox to finialise our arrangements. 
But world events and the panepidemic was catching up. Our venues were cancled and so was our Morris weekend. I discussed should I go on but we were still at level 2 so I decided yes I would at least to Wellington and then I'd reasses the situation.
Share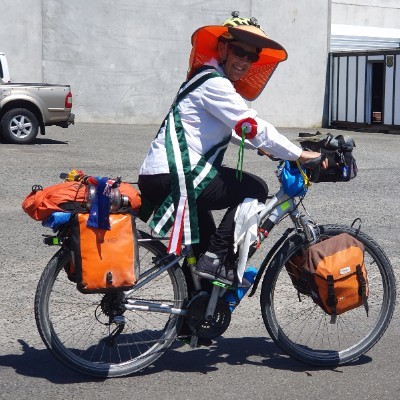 Mountain climbing to the Bridge to Nowhere.
Monday 16th Mar
I rested for a day in Taumarnui also to wait for a rain front to pass over as the next few days would be hard enough without rain making it potentially impossible for me going solo.
From Whakahoro I'd be slowly slowly making my way up mount Mangapurua a 680m on a grade 4 trail. Not something I'd normally try.  But I really wanted to get to the bridge to Nowhere and then a jet boat ride!  
Even with the rain passing the track was still slippery soft papa mud on shaded slopes and dips. Once on the single track I'd have to heave my bike up small slopes that felt like mountains in themselves as I slipped and slithered trying to get solid footing to push my bike further up the slope without it and me sliding back again. Sometimes I had (very grateful) help from other TA riders as they past me. One lad David on the tail end of a two year cycle around the world helped me a lot as he caught me up often along the trail. Oh for being stronger and taller! But I got up the trail and onto the next challenge. More up on a farm 4WD to the trig. One bounce too many and then a clunk. One of the bolts holding my back rack had sheared though. But once I'd found the correct sized bolt in my repair kit we were off again. Maybe a little more carefully over some of what I call steps along the road.
Getting to the top was wonderful and reading about the brave soldier settles who tried to farm this steep land! heartbreaking. A beautiful memorial to them is at the top. On the way up I'd seen the mountain of Doom in the distance. At the top I could see Taranaki Te Maunga.
I almost stopped for the night there but wanted to make it to Hellawells Camp. I didn't but stopped at Johnstons camp. as by then it was almost five. A good decision for me.
The next day was on to the Bridge to nowhere. Lots of walking along the edges of cliff faced bluffs and ... tramping suspension bridges. I expected one. Ha eight. Each requiring removing my gear. Lifting the handle bars up and over the posts at the beginning of the bridge. a nice walk across them then lifting the handle bars and bike up to just above my shoulder hight to clear the end posts.  any higher and I would have been stuck!
By the 6th bridge I'd worled out I could leave my front stuff on and tent and just had to remove my back panniers. And then only them as I couldn't push them through the posts. 
Finally I bounced round and down a corner into a group of tourists having a tea break on the bridge to nowhere. The guide called out are you Glen, Kiwigran? Yes!
Your boat is at the landing but if you don't make it I can take you back. Time for a photo and I was off to my long awaited jetboat ride. Booked for 1:30 and I made the landing on the dot.
Two days ride from Pipiriki and I was in Hunterville having completed my longest day cycling 97km and a SOS call to the sister for a pick up.My battered bike and self need a few repairs that will happen this week. I'll do a little bit more on my old bike to PN. 
Then next monday Isabel(my bike) and I will be back on trail for our long ride still to come to the south of NZ.
Share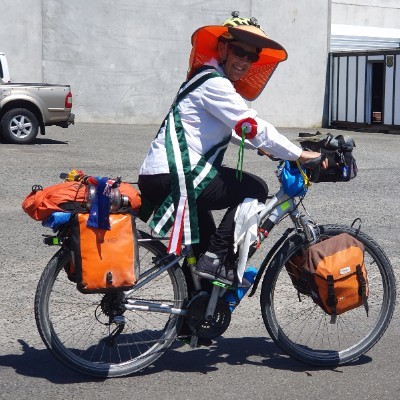 To the Centre of the NI and timber trail.
Tuesday 10th Mar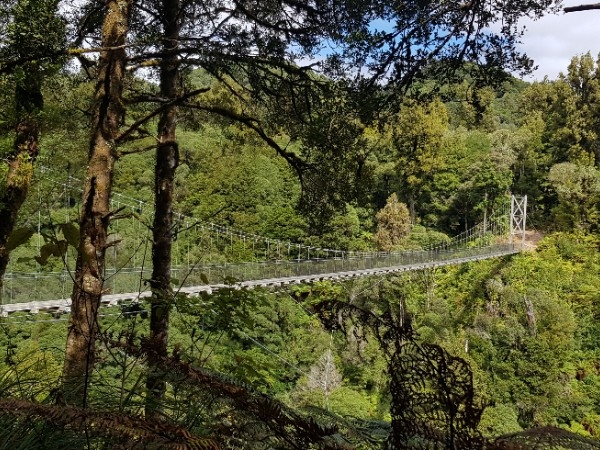 It was a long day of challenges to the centre of the north island. The first getting off the Waikato trail.I met a stapled shut gate. Result gate 0 Kiwigran 1. I did bang the staple back in (sort of). Fortunately the next gate was only tied. Next challenge a narrow tramping swing bridge. As I carried my gear across bit by bit. An angel appeared in the form of a tall young hunter. He magnificently carried my bike, above his head across the bridge. Thank you! Last challenge of the day a wee gully to scramble down and up. I made it easier by salvaging a plank of wood to cross the stream. An hour later since meeting the bridge I was away to the Center of the North Island. Next day was the Timber Trail. Starting with a gentle ride through a patch of old forest and tall giant trees. A gradual climb up My Pureora to 700m then down to Piropiro flats. This time the bridges were wide suspension bridges. The longest Maramataha 141m long and 58m above the river. Up another hill followed by a great ride along the historic trampoline. Lots of interesting information panels about the railway line, the workers and their families. Back in civilisation at Taumarnui resting for a day and waiting for the rain to past before tackling the next adventure. Cycling to the Bridge to Nowhere.
Share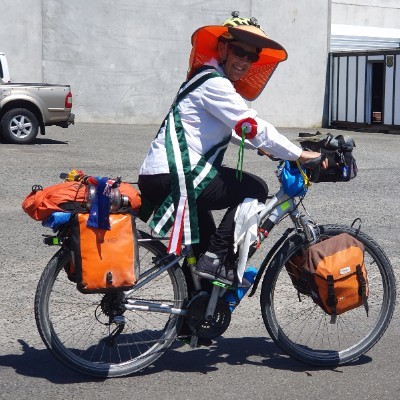 4th March, rest day.
Wednesday 4th Mar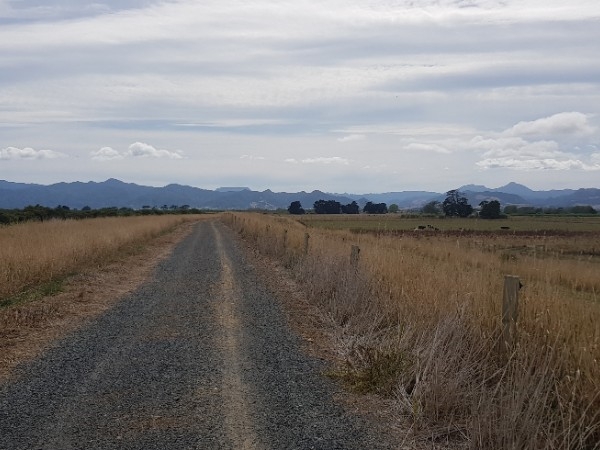 Well I survived an uncomfortable night on the road side and set off with the sun.  At Kawakawa Bay I found a new little coffee and bunch cart. A welcome treat after last night. While sitting there a couple of road workers stopped in their truck.  We got talking and they offered me a lift over the narrow road to Orere. I did think for a minute, really? Oh, I was glad. It would have been a nice ride but very narrow,  little shoulder on blind corners.  The rest of the ride to Miranda Springs was lovely.  
I stayed for a day before heading across the Hauraki rail trail.  A pretty good but bouncy ride on variable gravel.  Then to Matamata and Opal Springs for another evening soaking in a hot pool. 
Next day was a short day to a friends before seeing off early along part of the Waikato trail and back roads to Mangakino. 
Tomorrow I start towards the timber trail.
Its great meeting so many different people and talking. 
The wind has got up so I'm retreating to my tent from a nice possie in the Bus Stop Cafe on the lake edge of Maraetai. 
Stay well.
Share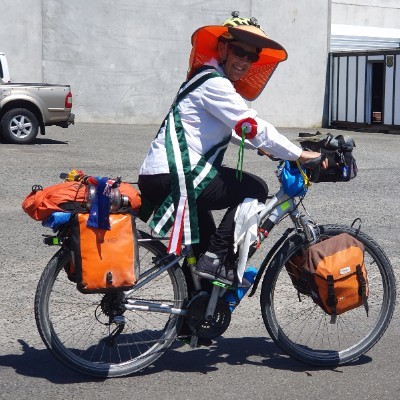 Hot weather across Auckland
Saturday 29th Feb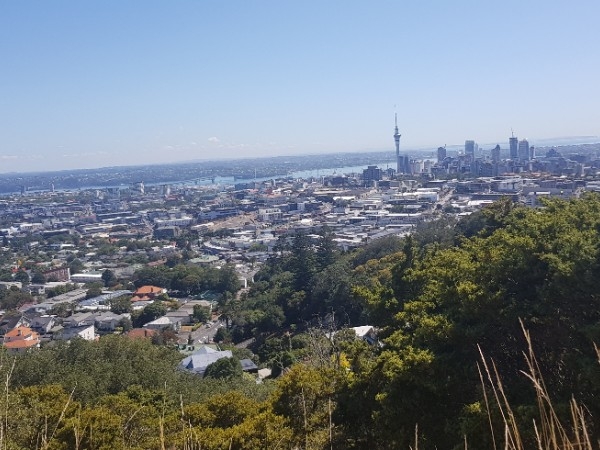 I got my front brakes fixed at Mt Eden Cycles and the back ones so I can skid again.  If I want to. 
Cycling became a long slog across Auckland. I got misplaced a couple of times.  Then had a great run to Clevedon.  But everywhere was no room at the inn. 
As it got dark my nerves got the better of me.  There was more traffic than I'd expected and the high beam lights blinding. After one scary wiggle after I looked up into somw headlights coming around a bend.  That was it, next flat piece of road side I was stopping. I spotted a place. It was up off the road with a little bit of shrub to 'hide' behind.
So first night wild camping. I wouldn't call it stilth I was very visible and my bike glows.  
Next morning very early and still dark. I packed up and 4 bends later was at the oyster farm.  Thank you guys your bathroom was spotless. 
I took a day's rest at Miranda after that.  And today rode to Paeroa. A muggy hot ride but cooler than yesterday.  I am impressed with the enormous amount of work that has gone into this rail trail.  Well worth the ride.  
Soon I'll be on the timber trail so another up date could be quite a few days away. 
Share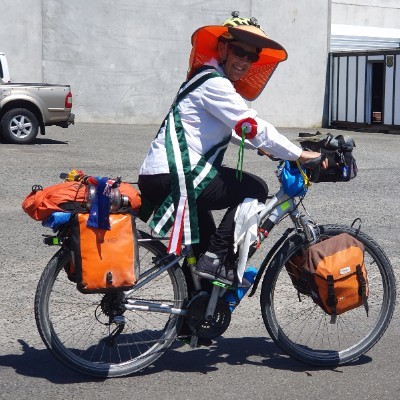 This is tough
Tuesday 25th Feb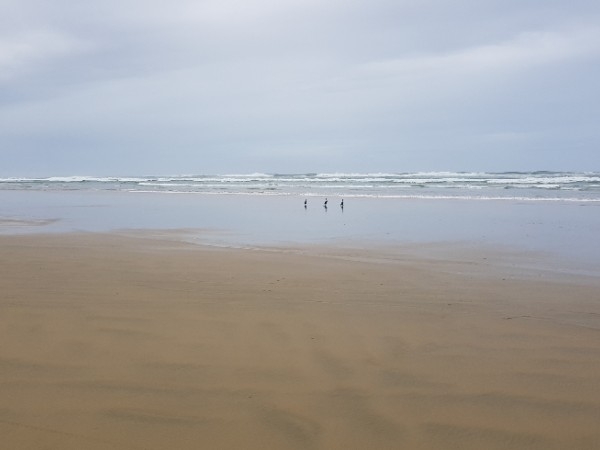 Day. 1
Great ride down the beach.  Long and weary  by the time I pulled into Utea. Where an offer of a bed for upgrade of $10 more. Was quickly said yes too.
Day 2 down the beach to Ahipara. Still good cloud coverage, and some light rain occasionally. I found the  sand felt softer, maybe tired legs.  But I was thrilled to have cycled the distance in 2 days.
Day3
I struggled.  The swear poured down the face singing my eyes and blurring the glasses.  It was hot. First long stretch of gravel road.  It wasn't too bad but any gravel takes concentration.  The views were stunning.  After a long day I got to the ferry and cross to Rawene.  I didn't feel very good.  It had been too hot. 
Day 4
I decided to just ride to Opononi and have a rest half day.  And it was a good decision.  Buy the late afternoon I was feeling back to normal. 
Day 5
A great day riding. It was cooler and although a big hill tho climb the legs and brain worked together and I climbed the hills.  Tame Mahuta is still majestic.  Glad to see  the protection the too visit him and a guardian to stop people doing silly things.  
Day 6
A good sleep at the Waipoua forest camp and a good morning riding out of thr forest.  Almost to Dargaville and 2 lads and a lass were offering watermelon and cold water at the top of probably the last steep hill. I was glad to cycle into Dargaville and find a bed aft the Kumera Box. Thank you Mary and Ernie.
Day 6
To Pouto Point.
Another day of struggling to complete the route to a lovely site at Pouto point to catch the boat to Helensville.  Hope this isn't a pattern of 2 days good 1 day yuck.  It wasn't helped that at about 10km from the point a pad ripped off my front brake.  So no front brakes! And a very bumpy gravel road. And hot! The brain needed a good talking too to keep going forward. But I got there! 
Share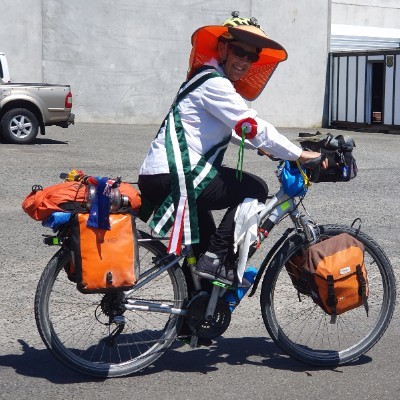 On my way!
Sunday 16th Feb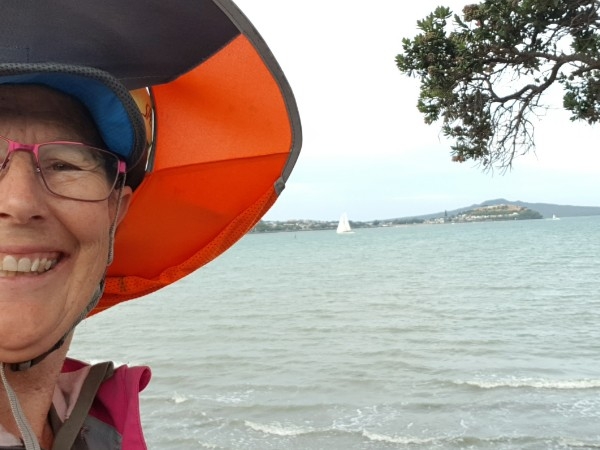 With some deep breathing I stood in the kitchen, heart racing, fixed unable to move. My sister called 'Come on'. I was released to take that first step of this adventure and out of my house. 
A great train ride and I'm in Auckland.
Monday a bus trip. 
Tuesday I ride.
The first step has past, I'm on my way.
Share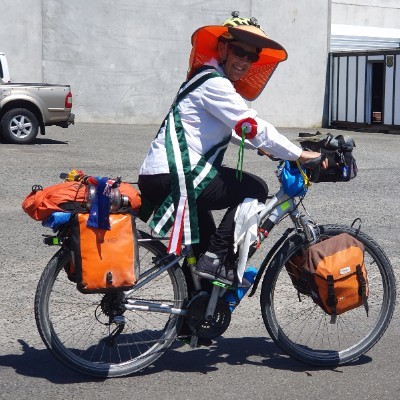 Two days to travelling North
Wednesday 12th Feb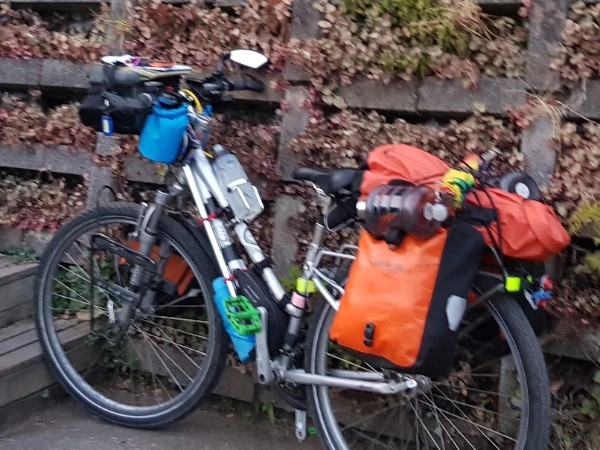 Two days to go! My adventure is getting very real. The buterflies are doing a hulie. I think everything is organised. One last pack and check. My sister is finishing my little chilly pack as my sewing machine decided to pack a sad before I'd finished it. Just another thing to add to the list of things needing fixing when I get home. (the sewing machine that is not the chilly pack).
I did finish the other alterations before it stopped cooperating. Photos below. I added a velco tab for attaching my walking stick to the tent door to make a rain shelter for cooking or shade when nothing else is avaiable. Plus a piece of cord to latch the door back in the half position the one complaint I have about my wee Macpac Solo light tent. Besides it being a bit finickyty to put up.
Long term forcaste for Cape Reinga is showers but still warm. I won't mention the W word. ?
In the first photo you can see my new very light footprint, hopefully water proof now having waterproofed it on both sides. So light I added another 20gm of eyelits and light UV resistant cord to keep it from flying away in the W word. Yes I do have an inner tent too. I'm not a hardcore bike packer with a tarp only...eek!
Another plea if anyone feels they could at least donate to my mental health page, it would be really really appreciated. I never realised how many things they support towards improving the mental health of people in the workplace and home. 
Thank you.
Share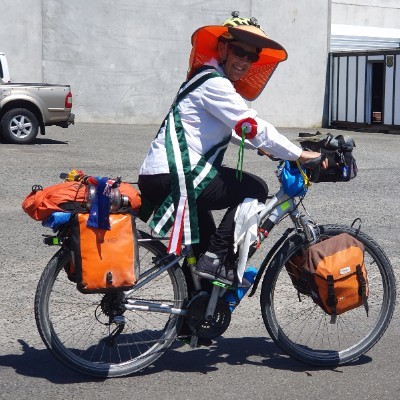 Training rides
Friday 10th Jan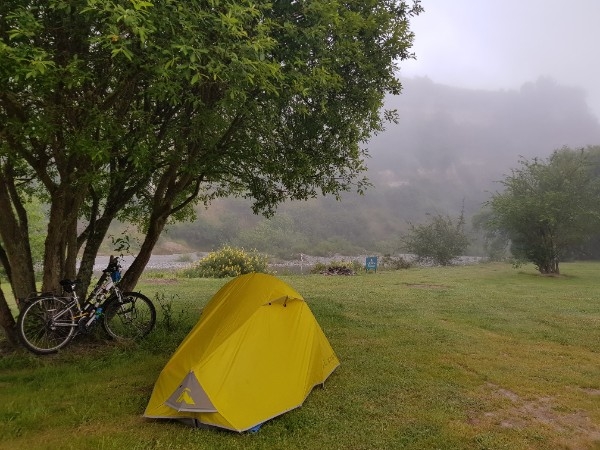 I start my ride on the 18th February 2020. I'm a slow rider and plan to finish at Bluff between fifty to sixty days later.
I've been trialling my gear and my version of bikepacking on my small frame hybrid bike. This is what I have and can ride. 
I am still learning to ride on gravel, not always successfully. However, I'm sure practise makes me better.
I hope to upload some photos, but I am still learning my way around this site. 
More to come.
Share
Thank you to my Supporters Beth Tolley Anonymous Katie Lindsay Paula Laird Bob Lawton Cheryl Lawton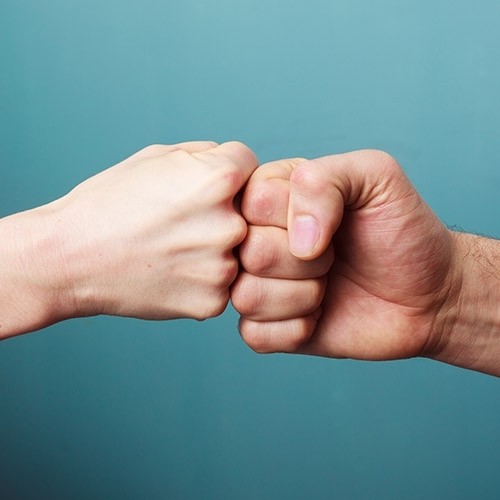 Suzanne Perrin Anonymous Alison Bond Frank Denman Sandra Lawn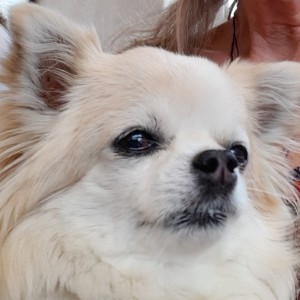 Anonymous Gynn Rickerby Val & Russell Mcmahon Debbie Van Hamelsveld Pete And Chris Jane Rob Kenneth Sandin