Tarawera 100 Mile Endurance Race
Posted by Mark, Saturday 6th Jan
My name is Mark and I live in the small rural town of Darfield on the Canterbury Plains. 
This is my second year entering the Tarawera Ultra Marathon. Two years ago I completed the 100km event, and this year I am entered in the inaugural 100 miler, which will be my longest run to date. 
I have always wanted to use my running as a way to raise money for charity, and this is the perfect opportunity to do so, and for such a worthy and topical cause. This is a great way to raise awareness and any amount will be greatfully received. 
Thank you to my Supporters Georgia Mathewson
Good luck mark!! I'm sure you will do great and we are all rooting for you!! Lauren
Good luck honey, proud of you 😘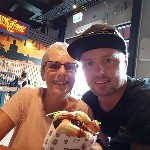 Eddie & Mary Edwards
Have a great run Eddie & Mary Alan Mathewson
Good Luck Mark, see you on the finish line. Chris
All the best Mark - good on you for going a second time! Hope you have a great run. Susan Ross
A great cause Mark. Very proud of you.xxx Kate Mathewson
Good luck Mark! Candace & Carole
Awesome work Mark, hope it all goes well for you Jane
Awesome Mark! What a great idea. Best of luck 😀