Hi everyone,
This Saturday I am racing 153km around Lake Taupo and figure some good can come from my suffering so I am raising money for Mental Health. I'm aiming to go around in under 5 hours, ideally 4:45.
Just so you know you're betting on a good horse, the last three and a half months of training have entailed 3200km and 59 spin classes!
I'm doing this because nearly 50% of New Zealanders will experience a mental health problem in their lifetime.. Your donation will help the Mental Health Foundation of NZ provide individuals, workplaces, schools and communities with the tools they need to build positive mental health and wellbeing. I want to raise $250 so please donate to me today! Every little bit counts!
Thank you to my Supporters Lenare Heron Vin George Grover Anonymous Adrienne Black Kelly Wyse Astra & Rory S F Hall Sophie Costello
Nikki Van De Laar Jack Sophie Lawson Phill Louise Martin Katie Griffith Molly Humphrey Susan Mcgregor Bevan Anonymous Hannah Mills Robyn Mathewson Natalie Smith Alexander Baker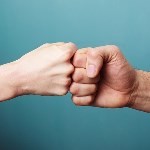 Anonymous Sarah Butler Eleanor Humphrey Kate Hall Thomas Humphrey